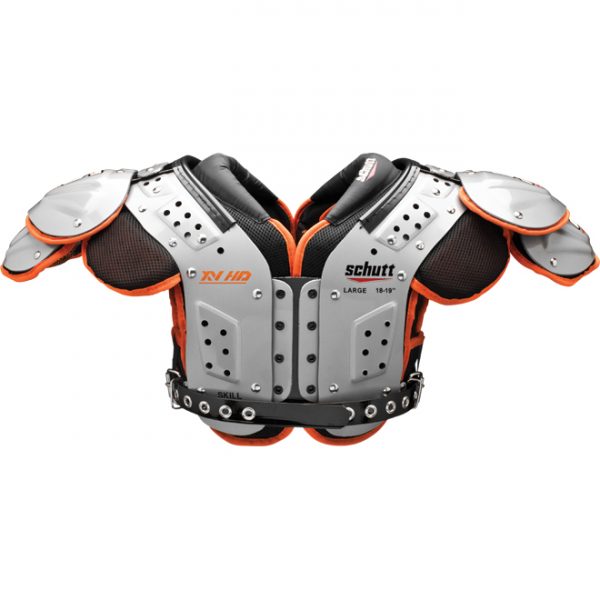 Schutt XV HD Flex Skill Position RB/LB/TE/WR
€239,00
Beschrijving
Extra informatie
Beoordelingen (0)
Beschrijving
Schutt XV HD Flex Skill Position RB/LB/TE/WR
The XV HD Skill
The XV HD is the shoulder pad against which all high school shoulder pads are measured. The XV HD has many of the same features as our pro-level shoulder pads and was upgraded this season with higher-density EVA foam for greater impact absorption and durability. The moisture and heat management system of the XV HD allows airflow to and from the body allowing the skin to dry and the body to continue its natural cooling action.
The XV HD Skill gives you a deep cut for a wide range of motion while still maintaining a long cut to give you the protection you need.
Tactical Arch Design
– High performance arch designs to minimize weight without sacrificing hitting zone protection. These new arches are engineered for maximum range of motion and mobility.
– Streamlined and balanced arch designs to keep arches and cushions in proper hitting position with less "upward" movement of shoulder pads.
– Newly designed, positioned and sized epaulets and caps (low profile) eliminating "grab" points and creating better overall performance.
– Position specific arches include QB/WR, Skill for RB/DB, All Purpose for FB/LB/TE and OL/DL with Non-Epaulet design.
– Raised corrugations for additional strength and increased air flow
Heat and Moisture Management System
– High density EVA foam is perforated throughout the body cushion allowing heat and sweat to escape and evaporate.
– The ventilated arch has raised corrugation and 7 mm vent holes to allow heat to escape and excess sweat to evaporate.
– Multi-Axis air flow channels maximizes breathability.
Clavicle Channel System
This system absorbs impact specifically around the AC joint and provides maximum shoulder protection. The hook and loop pad attachments can be re-positioned or removed to ensure a precise fit and coverage in the key hitting areas.
Other Design Features
– Flat Pad Design is low profile for improved mobility.
– BIOTHANE™ belts create a snug and secure fit while maintaining the shape of the arch to maximize range of motion.
– Pre-drilled for Accessory attachment.
– Removable deltoid and scapular pads.
– Stainless Steel hardware.
– Removable body for easy hand washing of cushions.
– The lightest varsity shoulder pad we can build while maintaining high performance standards.
Extra informatie
| | |
| --- | --- |
| maat | Small, Medium, Large, Extra Large, 2 XL |