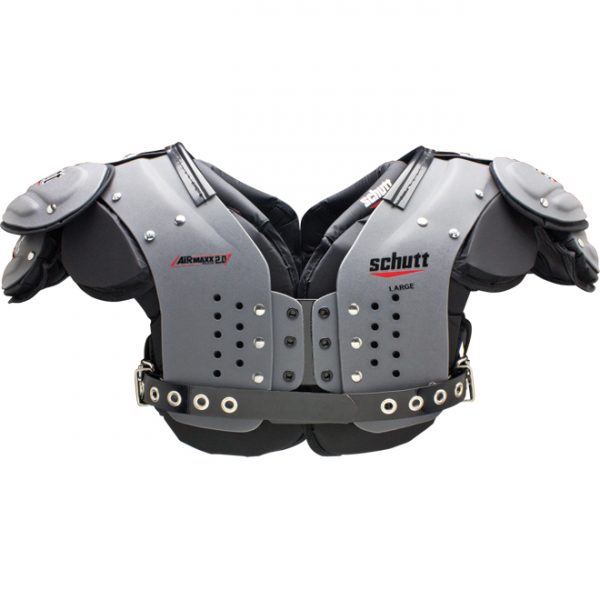 Schutt AiR Maxx Flex 2.0 Skill RB/TE/DB
€225,00
Beschrijving
Extra informatie
Beoordelingen (0)
Beschrijving
Schutt AiR Maxx Flex 2.0 Skill RB/TE/DB
The AiR Maxx Flex 2.0 Skill gives you a deep cut for a wide range of motion. Also features super-light construction for maximum speed.
Air Management System
The protective shoulder pad cushion is made of open cell foam with microscopic air chambers. The outside fabric is sealed to the foam trapping the air inside the cushion. When impact occurs on the shoulder pad arch the load is spread. The impact causes the arch to engage the cushion, which forces the air within the cushion to move throughout the foam chambers dissipating the pressure. The impact energy is dispersed over a larger area reducing the amount of force impacting the body.
Triple Shoulder Protection
TPU Cushioning
Air Maxx TPU cushioning that is used in our best performing helmets is featured in our new Air Maxx Flex 2.0 Shoulder Pad Series. TPU cushioning is positioned over the shoulders providing enhanced impact absorption. Air Maxx TPU is durable and will not break down – even after thousands of impacts.
Energy Lock Technology Powered by D3O®
Energy Lock Technology powered by D3O® is a lightweight, soft, and flexible material featuring unique molecular properties. In standard conditions its molecules flow freely, but on impact, they lock together to absorb impact energy and reduce the force transmitted. The material is rate sensitive, so the harder the impact, the greater the resistance to the force. Our D3O® foam is strategically positioned over the shoulder for optimal impact absorption.
Clavicle Channel System
System absorbs impact specifically around the AC joint and provides maximum shoulder protection. The hook and loop pad attachments can be re-positioned or removed to ensure a precise fit and complete coverage in the key hitting areas.
Tactical Arch Design
– High performance arch designs minimize weight without sacrificing hitting zone protection. These new arches are engineered for maximum range of motion and mobility.
– Streamlined and balanced arch designs keep arches and cushions in proper hitting position with less "upward" movement of shoulder pads.
– Newly designed, positioned and sized epaulets and caps (low profile) eliminate"grab" points and create better overall performance.
– Position specific arches include QB/WR, Skill for RB/DB, All Purpose for FB/LB/TE and OL/DL with Non-Epaulet design.
– Raised corrugations for additional strength and increased air flow.
Other Design Features
– Flat Pad Design is low profile for improved mobility.
– BIOTHANE™ belts create a snug and secure fit while securing
the shape of the arch to maximize range of motion.
– Pre-drilled for Accessory attachment.
– Removable deltoid and scapular pads for customized fit.
– Stainless Steel hardware.
– Removable body for easy hand washing of cushions.
Extra informatie
| | |
| --- | --- |
| maat | Medium, Large, Extra Large, 2XL |